| | |
| --- | --- |
| Posted by wcquiltworks@gmail.com on June 7, 2011 at 3:45 PM | comments (0) |
Yayy, I'm posting a work-in-progress update and it's still Wednesday!!  Woohoo!   I fell behind when I was sick for a few days (I'm feeling much better, thank you!) and for the past two days I've been trying to play catch-up.  I think I'm just about there finally! I don't have a lot in the way of photographic updates, but I did complete the cross-stitching on block #1 of my embroidered quilt WiP.  That's one block down and 17 left to embroider, before beginning the hand quilting process! Think this quilt might take a few years to complete, LOL?
I also had Amanda from Ruby for Women, which is a social networking site for Christian women that I belong to, approach me about writing monthly updates on my Bible block quilt progress for their ezine!  I jumped at the chance, you betcha!
I also managed to get Wentworth County Quiltworks.com up and running, but the site's still a little sparse!  I want to add photographs, tutorials, and one day, a little Quilt Along community to it, or maybe some BOM stuff - we'll see what happens over time!  I'm open to suggestions and all the help I can get!
Speaking of quilt alongs - I've also been preparing this week to participate in my first ever QAL over at Don't Call Me Betsy's!  I'm really looking forward to it but that'll have to be a topic for another post!  Stay tuned....
For more Wednesday Works in Progress, head over to Lee's at  Freshly Pieced!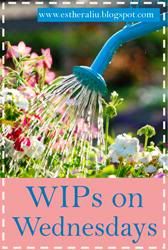 And don't forget Esther's WOW (WiP on Wednesday) feature
here.